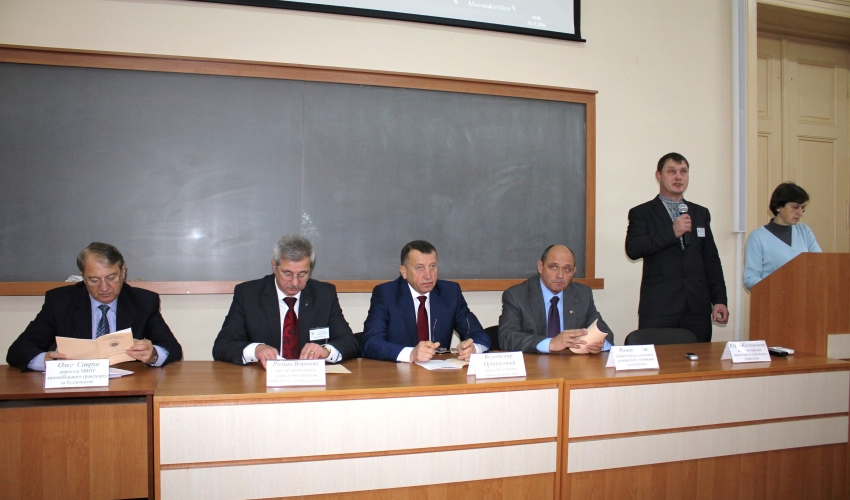 Some days ago Ukrainian scientific and practical conference "Problems of training teachers for vocational education: theory and practice" was held at Lviv Polytechnic. The conference was dedicated to Lviv Polytechnic National University Bicentenary. Scientists and practice teachers, employees of vocational technical schools from different regions of Ukraine were interested in its themes. There were two plenary sessions, five sections and workshops in pedagogical skills.
In the conference Vice Rector on Scientific and Pedagogical Work Roman Korzh gave the opening speech:
We are pleased to welcome You at the University, which will soon celebrate its 200th anniversary. The scientific and pedagogical staff of Lviv Polytechnic understands the importance of Pedagogics, pedagogical skills in order to improve the quality of education not only in vocational technical schools but also at all levels of education. Our University is ready to attract all scientific and educational potential to prepare highly qualified teachers for vocational education. Attend our conferences, seminars... Our doors are always open for You. Keep up the good work!
The moderator of the conference, head of the Department of Pedagogics and Social Management, Doctor of Pedagogical Sciences Yuriy Kozlovskyy gave the floor to the Doctor of Legal Sciences, Director of the Institute of Jurisprudence and Psychology, Volodymyr Ortynskyy, who has been "ideological inspirer" of introducting studies of Vocational Pedagogics at the University. Volodymyr Lvovych said that he knew about vocational technical education from the inside  because 43 years ago he had graduated from Drohobych Vocational Technical School and became a turner by profession. Then he studied at Drohobych Pedagogical Institute, became a teacher of Mathematics and Physics at a rural school. After that there was a change in the trajectory, i.e.  his service in Internal Affairs Forces, the interest in Jurisprudence and Legal Science.
Volodymyr Ortynskyy talked about the 5-year formation of the youngest Institute at Lviv Polytechnic, the creation of the Department of Pedagogics and Social Management, where 5 out of 9 Doctors of Pedagogical Sciences available at the University have been working. Work on licensing of the bachelor's degree concerning training  teachers for vocational education on the basis of 11 forms and the concession of the second higher education on Vocational Pedagogics are continuing. "Our Institute and our University are turning into a powerful training ground for vocational and technical education".
Yuriy Kozlovskyy presented a  comprehensive report on "Strategic directions of the development of Vocational Pedagogics: an integrative approach". First of all, Yuriy Mykhailovych showed with statistics on the current state of vocational and technical education in Ukraine and Lviv region. At present 817 state vocational technical institutions are training workers (which is about 400 working qualifications). 303,100 people are studying at vocational technical schools. Educational process is provided by 39,500 teachers. The average provision with teaching staff is 85 percent. At vocational technical institutions of Lviv region 29,100 people are studying. Educational process is provided by 2,800 teachers. The average provision with teachers is 81 percent. Despite these figures, the overall situation of modern vocational technical education in Ukraine is disappointing. It is due to financing challenges of this educational branch, decrease in the number of students (for various reasons, including bad demographic situation), outflow of skilled staff abroad, especially to Poland.
Meanwhile, vocational education is directly related to the needs of the economy of Ukraine and training workers underpins the economic development of our country. These general rules were mathematically proved in the 1950-ies.
The speaker mentioned that the volume of licensing in the speciality "Vocational education" (015) is extremely low in the Western region, and the state order is executed in full only in the speciality "Computer technologies". Thus training teachers for vocational education is practically absent on the territory of Lviv region.
According to Yuriy Mykhailovych, two strategic directions of preparation of teachers for vocational and technical education are developed at Lviv Polytechnic National University.  Firstly, it is the introduction of an optional block of the pedagogical disciplines for students of the 3rd and 5th years. Secondly, this is training specialists in the speciality "Vocational education" (015). Fruitful cooperation between the Department of Pedagogics and Social Management and Academic and Research Institutes, especially Engineering Mechanics and Transport, as well as Building and Environmental Engineering, Chemistry and Chemical Technologies, has been established to develop curricula and educational programmes.
Emotional speech was delivered by Oleh Savruk, Director of the Interregional Higher Vocational School of Motor Transport and Construction. He started his speech with mentioning the episode of the film "Moscow does not believe in tears". The young Doctor of Sciences proposes a toast to Hosha, a talented employee of Scientific and Research Institute, "The success of my doctoral dissertation depended on Hosha's golden hands  80 percent". In spite of overproduction available in many specialities at universities, the country is in dire need for turners, millers, welders, bricklayers, tilers, lab chemists etc. A big problem of vocational technical education is that at many vocational technical schools students are taught using outdated equipment which has remained since the Soviet times, when almost all enterprises had their basic vocational technical schools. Such graduates do not always meet the needs of today's labour market. However, according to Oleh Savruk, their vocational technical school is trying to survive on their own money earned in order to upgrade their classes, laboratories and workshops.
Antonina Kivshyk, Deputy Director for Training and Production of Vocational Technical School No. 50 in Karlivka in Poltava region, reported on behalf of practice teachers. The restructuring of the activities at this educational establishment started not at the top, but in the team. Survey of teachers and students was conducted. Each person expressed his/her vision of improving the quality of education that meets the requirements of the labour market. The teachers undertook compiling books and workbooks for students. Now almost all graduates of 13 available professions find employment in Poltava region and in the neighboring Zaporizhzhia and Kharkiv regions.
Various theoretical and practical aspects of training teachers for vocational and technical education raised in the reports of the Head of Laboratory of Innovative Technologies of Training at Educational and Methodical Centre of Technical and Vocational Education in Lviv region Roman Voroniak, Doctor of Pedagogical Sciences, Professor of the Department of Pedagogics and Social Management at Lviv Polytechnic Lilia Sushentseva, Candidate of Pedagogical Sciences, Associate Professor of  National Pedagogical Drahomanov University Iryna Holiad, Candidate of Pedagogical Sciences, Associate Professor at State Higher Educational Institution "Kryvyi Rih National University" T. Sulyma and other scientists and practice teachers of vocational technical education.
Doctor of Pedagogical Sciences, Academician of the National Academy of Pedagogical Sciences, Oleksandr Lavrinenko made a report on "The development of pedagogical skills of teachers at vocational educational institutions in the dimensions of pedagogical skills". He also conducted a workshop in teaching pedagogical skills. In the academician's opinion, pedagogical skills do not only include erudition, proficiency in the subject knowledge. There are many different components of these skills: public speaking, articulation of voice, the ability to move in the lecture theatre. The teacher must be interesting as a person to those who listen to him/her. The academician joked a lot ... During the break the journalist of the press service inquired about the academician's attitude to those teachers who could tell a joke or a fun story during even a very serious lecture. Oleksandr Lavrinenko answered literally in such way, "A sense of humor is a component of pedagogical skills. But we must not forget about limits and pedagogical expediency...". Professor Yuriy Kozlovskyy answered the same question of mine approximately in the same way.
Journalist's comments
I confess that I and the people with whom I have spoken on the subject of Pedagogics, have had doubts as to whether it is science or art. And it seemed to me that this science is primarily humanitarian, that in scientific dimensions teachers become mostly people with higher education of a philologist, a historian, a psychologist... It turns out not to be so. Yuriy Mykhailovych presented me with the book "Pedagogical laws, regularities, principles. Modern interpretation" written by the famous Ukrainian teacher Semen Ustymovych Honcharenko. So the words of the famous Ukrainian teacher Vasyl Sukhomlinskyy are cited in the book, "Pedagogics will become an applied science only when it researches and explains the subtlest and the most complicated dependencies and  interdependence of pedagogical phenomena". It turned out that Semen Ustymovych is known for his methods of teaching Physics. He compiled a manual on answering the problems in Physics which was reprinted 8 times in Ukraine and 5 times in Poland... By the way Semen Honcharenko was the official opponent when Yuriy Kozlovskyy defended his doctoral dissertation in 2013. Yuriy Mykhailovych can be considered a young scientist. He was born in 1978. He graduated from Lviv Physics and Mathematics Lyceum (LPML), and later from the Faculty of Physics at Ivan Franko National University in Lviv. At Lviv Institute of Banking he headed the Department of Mathematics. I think that this basic education (and it is very important that his grandfather and great grandfather were teachers too) will contribute to training highly qualified teachers for vocational technical education at our Technical University with its significant humanitarian component.